When bitcoin futures began trading, Interactive Brokers clients looking to short the cryptocurrency quickly realized that the platform didn't allow shorting of bitcoin futures*: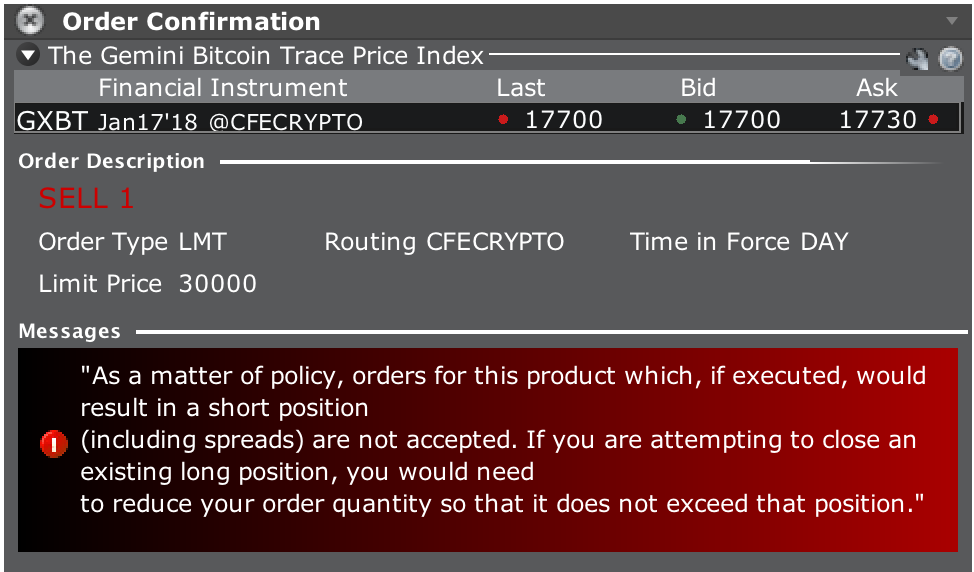 In fact, only three retail brokerages (available to the general public) seem to allow trading of the CBOE bitcoin futures at all.
When the futures officially opened for regular trading hours on Monday at 8:30am CT, the spread between trading a bitcoin future on CBOE's platform and trading a bitcoin on GDAX (the trading platform backed by coinbase) was over $1,000. In a normal, orderly market, you could buy the GDAX bitcoin while selling the CBOE future and profit off of the spread (less some nominal costs). But of course, this is not a normal, orderly market.
The CME launches their futures contract this Sunday. With an initial margin rate of 35% and a contract size of five bitcoins, if bitcoin stays around $17,000, traders will still need to put up $29,750 just to play. Sorry Mom and Dad, but it doesn't look like cryptocurrencies will be in your IRA anytime soon. Most retail investors who don't want to put their trust in the nascent cryptocurrency exchanges will still have to wait for an ETF.
The following table is based on conversations with help representatives at the respective brokerages:
* certain clients might now allowed to short bitcoin and/or bitcoin calendar spreads on Interactive Brokers
http://www.bantix.com/wp-content/uploads/2017/12/cant-short.png
572
974
bantixauthor
http://www.bantix.com/wp-content/uploads/2015/05/Bantix-logo-transparent1.png
bantixauthor
2017-12-14 02:45:49
2017-12-27 18:08:06
How you can trade bitcoin futures (in the US)